These Items are in good working condition, unless otherwise specified.

MUST SELL !!!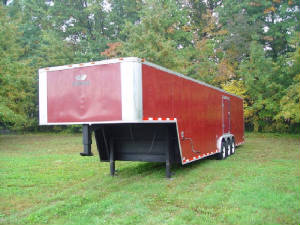 $11k Firm
2000 Vintage 38' gooseneck. The trailer is burgandy in color and looks nice. I will try to send some pics if you are interested. The trailer has 4 base cabinets, 2 double door closet style storage cabinets, 5 overhead cabinets, new parts washer, new 10 x 20 stand alone awning/shelter. 4 2' x 8' ATP runners, new winch (uninstalled). I have not installed floor covering in the back of the trailer yet, It is still painted plywood, so the ATP runners have not been installed. The front of the trailer has rubber flooring. I have not installed the electrical package however. The trailer has a passenger side pit door, driver side escape door, and beavertail with fold down ramp in rear. The cabinets are installed in a way that gooseneck storage is not affected. I can park golf cart with lift kit and big tires in front, Outlaw 10.5 mustang in with a 4 wheeler at the back. The D-Rings are loose and can be installed any place within the trailer. I have mainly used the trailer for storage, and it has not been to the track since I put in all the cabinets etc. I will take $11k this is far less than the trailer is worth. I just need something bigger.
393 Ford windsor journal Stroker kit less pistons 393 parts are all new (Steel Scat Crank and Eagle rods, Fluidamper balancer, and Reactor C4 flywheel,all bearings, and most gaskets for shortblock
will not seperate engine parts $1500.


Holset HT 60 Turbo - Excessive Impeller shaft endplay, needs to be freshened up. 5 1/2" Air Inlet, 5" Exhaust Outlet, 3" "ID" Air Dicharge Best for large cubic inch lower rpm motor. Will make 30#'s+ of boost. No wastegate included.
Assy # 3532408
Seriel#2L2994089

Procharger Air to Air Intercooler 3" Inlet and Outlet.

Both items are used, intercooler needs nothing, but turbo must be freshened before using as excessive endplay will allow oil to blow back through the intake tract and cause detonation. Freshening it up really is not that expensive, I just decided to go a different direction so these items are now for sale.

Also have some of the intercooler piping, and air Intake pipe for turbo
(Will not seperate turbo cooler, and piping) $750

I also have a c4 with street converter, New SFI Trans. Blanket,and turbo action shifter. $1100

Edelbrock Performer EFI Intake, with 70mm BBK Throttle-body, and EGR, C&L 24# Mass air, FRPP 24# injectors. (all used but in good working condition $750

Car Tech / Aeromotive High HP EFI fuel pump with filter, mounted on plate to fit under mustang (new) $325

Barry Grant HR220 Fuel Pump (fresh from BG, have not run fuel through this pump since I got it back, so it too is as good as new) I think I also have the factory regulator that came with this pump new $175

#8 feed and return braided line with fittings (used) $100
I also have a ton of AN fittings / residual valves, and misc. small items left over from my SSO car, so email me with anything you might need, and I will look and see what I have.

Canton T style 302 Road Racing Pan (used) $75.

MAC Equal Length Shorty Headers 1 5/8" $100

1 piece exhaust 2 1/2" H-Pipe with 2 3/4" flow tubes welded on, and 3" Dynomax mufflers (no more exhaust leaks (will not ship to hard to package) $150

I also more than likely have just about any stock mustang part you could need from a rolling stock 5.0 to a complete motor and tranny for 5.0 and everything in between. Pony Wheels, and 10 hole lx style




This Harley is Posted for a friend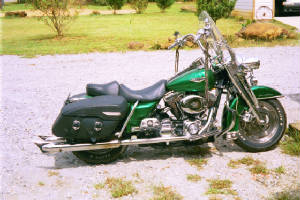 Please call Chad at The Rod Shop 229-937-2954, or 229-937-2258



This car was overbuilt for O/C or M/M , it is 25.1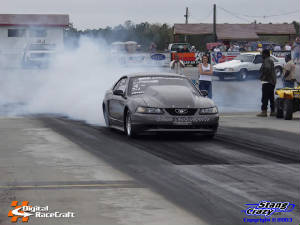 Owner will take half of what is invested in chassis. $32.5k
2002 mustang 25.1 D double framerail, firewall backhalf c/m funnycar cage,all steel with hood,bogarts,16x33,9"fab housing,strange spool,40 spline gundrilled ,alum ctr,arospace front & wilwood rear brakes,4 link,lexan windows,aeromotive 2000 pump,alum fuel cell,kirky seats,car has been run in slower bracket styleclasses the last 2 yrs. as driver was not certified for quicker ET. This car finished #2 in Pro series in 03,won ffw Bristol Mod Motor race in 04,very sharp car can email pics.4 more info call Lew 7404041559,Asking 32500 or best offer. This car has a Pro C/M 4-Link, and sway bar as well as Koni double adj rear coil overs. The front has removaBLE CENTER k-fRAME, AND ALL FRONT SUSPENSION IS C/M AS WELL, front struts are QA1 adj.The car has been run with a mild 514 BBF, as well as with a modular 5.4 with powerglide. That is how it is configured now. Turbo mod motor races should consider this chassis, as well as smallblock NOS cars, as I believe it weighed around 2500 lbs.
Car will be sold rolling and cost twice this to build. I can personally vouch for the fact the chassis has bever been stressed.
I am trying to talk him into teaming up and using my motor for this year, but he really needs to sell car.

If Interested contact Lew Workman at 740-404-1559 or email me on any of my links